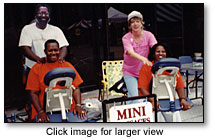 The Stress Less Massage Clinic specializes in serving the Grand Rapids, Michigan area with therapeutic massage, classes, on-site workplace massage and chair massages.
We offer a variety of massage techniques and therapies including table and chair massage, pregnancy and infant massage, acupressure, specific neck, shoulder, and low back techniques, swedish, polarity, range of motion increase, myofascial release, TMJ specific work and more.
DE-STRESS YOUR HARDWORKING EMPLOYEES WITH WORKPLACE MASSAGE!
Especially in this economic recession, your employees are stressed out with life and increased demands. Learn how you can increase productivity, decrease health costs and reduce missed work days with workplace massage! Learn more >>
ORDER GIFT CERTIFICATES ONLINE!
Order a massage gift certificate online with our easy PayPal shopping cart! You can order certificates for as low as $35 for a half hour massage up to two hours. Order a massage gift certificate today!